Megjelent a RGCD #03!
2007.09.05. 17:09 >>>> Bear >>>> RETRO >>>> : 2468 : 0
---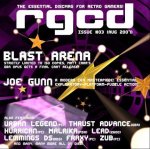 A nemrégiben indult elektronikus alapú retro kiadvány harmadik száma készült le, kötelező olvasmány retro fanoknak.
Az auktiális számban ismét tengernyi színvonalas írás található, szerintem a részletes lista önmagáért beszél:
Featured Game
Blast Arena Advance (GBA)
Retro Reviews
Aqua (Amstrad) Barbie Seahorse Adventures (PC) Blizzard's Rift (ZX Spectrum) Burn The Trash (PC) Daedalian Opus (MSX) Elevators Amiss (Atari 2600) Fraxy (PC) Frogger '07 (VIC20) Gangsters (Atari XE/XL) Hurrican (PC) Ifrit (English Translation) (PC) Io (The Remake) (PC) Joe Gunn (C64) Kikstart (C64) Lemmings DS (NDS) Malaika - Prehistoric Quest (MSX) Marble Logic (C64) Millenipede (PC) Reaxion (GBA) Sniper (Atari XE/XL) Spiga (PC) Stranded 2.5 (ZX Spectrum) Thrust Advance (GBA) Traffic Jam (MSX) The Rebels (C64) Ultra Violent Worlds (Amiga) Urban Legend (PC) Zub (PC)
Extras
Doppelganger Preview (PC) Lead 8K Preview (Atari 2600) Llamasoft: The Dromedary Years (Part One) (Misc) MMC64 (C64) Sonic MegaMix (SMD) Streambolt Desero (PC)
Emulators
AtariWin800 Plus 4.0 (PC) Blue MSX 2.7 (PC) Kega Fusion 3.51 (PC) Klive 1.1 (PC) Stella 2.3.5 (PC) Visual Boy Advance 1.72 (PC) WinAPE 2.0 Alpha 13 (PC) WinAUE 1.4.3 (PC) Win Vice 1.21 (PC)
Úzsgyi lehet indulni letölteni a stuffot, ne feledkezzetek el a kinyomtatható borítóról sem!
Sorry, there is a glitch in the system. The webmaster has been notified of the issue.